Gifts With An Edge
Our Most Popular Gifts
Prices include engraving and all gifts come with bows
Pizza Cutter #1502
$63.70
Turn N' Serve #1755
$65.70
Slice N' Serve #1754
$70.70
Spatula Spreader #1768
$87.00
Santoku Style Trimmer #3721
$92.00
Small Walnut Cutting Board 9x13
$56.00
Large Walnut Cutting Board 12x18
$96.00
Ice Cream Scoop #1503
$50.70
Fishermans Solution
$109.00
Cheese Knife #1764
106.00
Dessert Favorites #1855
$122.00
Santoku Carver #3729
$131.00
5″ Petite Santoku #2166
$142.00
7″ Santoku Knife #1766
$157.00
Hunting Knife
$114.70 – $130.70
Santoku Style Clubmates Set #3822
$170.00
Wine Opener Gift Sets
$144.00 – $199.00
Wine Opener Gift Sets
$144.00 – $199.00
Shear Favorites Set #1851
$212.00
Shear Utility Set #3852
$213.00
Petite Culinary Companions Set #3849
$220.00
Petite Cooks Combo Set #3836
$225.00
Culinary Companions Set #1849
$235.00
Cooks Combo Set #1836
$240.00
2pc. Santoku Set #1850
$290.00
4Pc. Steak Knife Set
$331.00
Wine Opener Gift Sets
$144.00 – $199.00
Luxury Sets
Do you have an over the top client you would like to to WOW? Give a luxury wood block set and we will customize a silver or brass plate for you to adhere to the front of their block.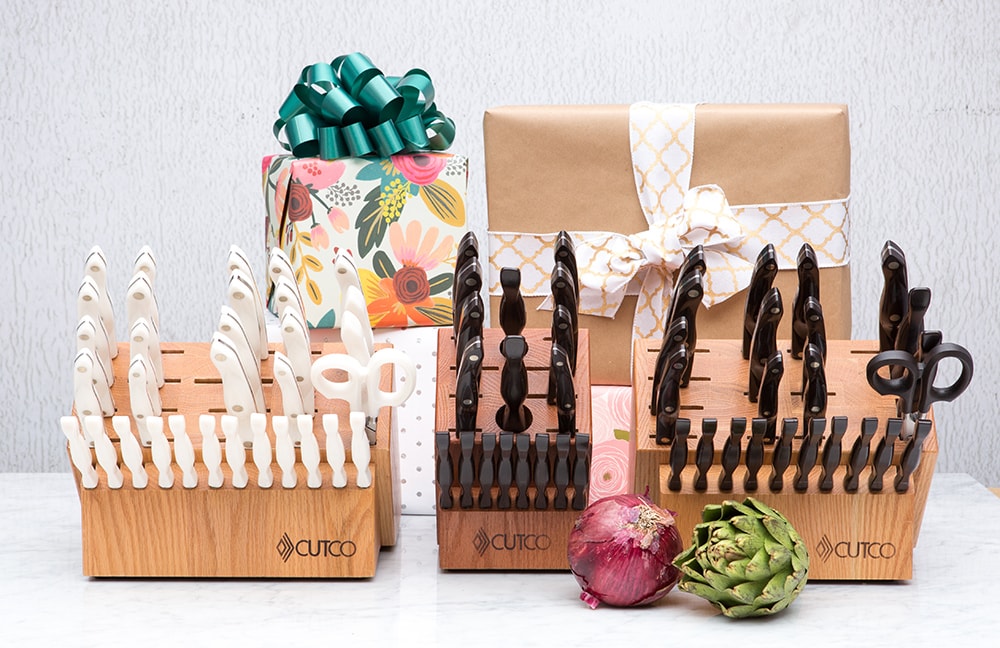 Basic Studio Block Set
$441.00
Essentials + 5 #1945
$747.00
Gourmet Set #1805
$841.00
Homemaker+ 8 Set
$1326.00
Signature Set #2014C
$2004.00
Ultimate Set #1813C
$2739.00
Better Yet Help Each Client Build A Set Over Time Through Future Business and Referrals
Not Sure About The Engraving?
Don't worry you can engrave as small, simple and discreet as you'd like.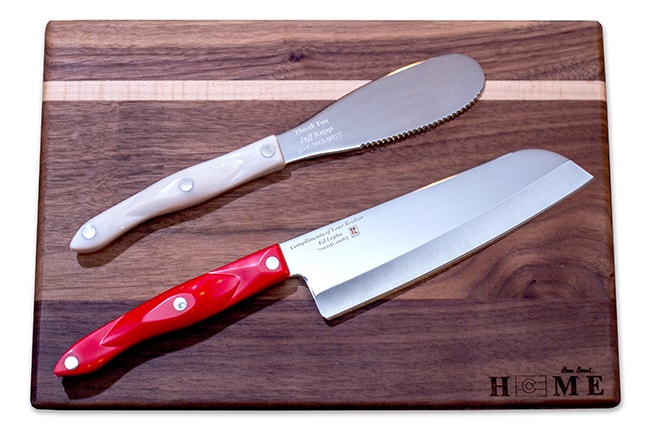 Don't see a CUTCO item you think you should?
Don't worry we offer that too …But we've already done the hard part for you. The gifts on our website are all the 'winners' per say. We have market tested over 100 different products and hand selected our best branding tools to show case for you. Our gifts will give you the best bang for your buck regardless of what type of client you are working with, how old they are or what they are or aren't into today or even 10 years later.
Let's Get Started
Get A System In Place

Every Cutco knife is Diamond drag engraving. This means your engraving will never wear way. You're welcome to engrave any way you want. Our discounted engraving is only $7.50/ piece for unlimited characters. Just a little better than the average $3/per character, right?! Engrave the front, back, big and bold or small and discreet – we are here to help!

Gifts come in small or large quantities, depending on your needs. Minimum is 5 units. We ship all your gifts up front and bill you over 5 months or 10 months interest-free.

What Would You Like To Do Next?